There are boundless channels and possibilities to expand your businesses reach, from organic and paid social, to SEO and paid search. Once you have these channels in place and optimised, you may ask yourself how else you can expand your reach into new frontiers, and affiliate marketing might just be the answer for you!
What is affiliate marketing?
Affiliate marketing, in essence, is partnering with a third party who promotes your product or service through their channels for a fee and/or commission.
Affiliates can range from individuals who run a few blogs to multinational entities, with turnover ranging from a few hundred pounds to tens of millions in commission per year.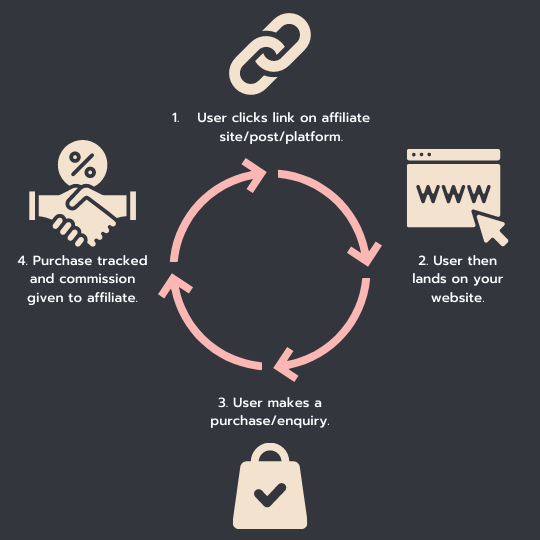 How can it benefit my current marketing mix?
Affiliate marketing can benefit your current marketing mix by broadening your reach and providing multiple, varied touchpoints for individuals to engage with your brand and convert. This allows for you to reach whole new audiences through different channels like sponsored articles in news sites, blogs with a dedicated following to social media influencers.
As commission is generally given on a performance basis (i.e. when a purchase is made through the affiliates link), it is a low cost, scalable method of marketing. Once you identify your average order value and a desirable cost per conversion, you can then work out your commission rates you are willing to grant, allowing the system to be scalable as order volumes increase.
Platforms
There are a number of platforms that you can use to access affiliate networks, with AWIN being the most popular solution on the market, with over 21,000 merchants and more than 241,000 active publishers (affiliates) across the globe. This network is made up of a wide range of publishers, each with a different channel that you can gain exposure on.
Some of the promotional sources AWIN offers include:
Blogs
Review sites
Cashback services
Membership benefit programmes
News sites (sponsored articles)
Coupon sites
Influencers
This allows you to access a varied range of promotional offerings from a single platform, diversifying your marketing mix through new platforms and mediums.
As well as affiliate platforms like AWIN, you can also engage with affiliate marketing through social platforms such as TikTok, which has its own affiliate platform built into its TikTok shop e-commerce platform. This allows you to scope out and engage with the right influencers for your organisation and form partnerships with them for product promotion for a commission on any attributable sales.
Case Study – 'One month on AWIN'
We have been running affiliate marketing campaigns for some time, with a number of new ones launched at the end of 2022.
In October '22, we began a campaign for a client and focused on finding and partnering with publishers to create a strong portfolio with which we agreed a set commission rate on.
By the end of November, we had 38 publishers promoting the client, resulting in 208 clicks and 30 conversions, for a 14.42% conversion rate. This first month of the campaign brought in 11.3% of their monthly revenue, increasing to a 14.82% share in the following month.
And with traffic continuing to grow month in month, it looks to be a reliable platform for this client. With more publishers added to the programme every month, each with a specific niche and channel, we are able to support that continued growth.
Want to learn more?
If you'd like to learn more about how affiliate marketing could benefit your campaigns, please get in touch with us and we'd be happy to help talk about how it could be implemented into your existing strategy.