When it comes to Google Ads, ad copy is crucial for capturing the attention of potential customers but its often the most overlooked task, as it is time consuming & can be a challenge to come up with new ideas. Leveraging AI like ChatGPT allows us to take our copywriting efforts to new heights and in many ways acts as an additional team member to brainstorm and bounce ideas off.
We can start very simply by asking ChatGPT for some headline suggestions: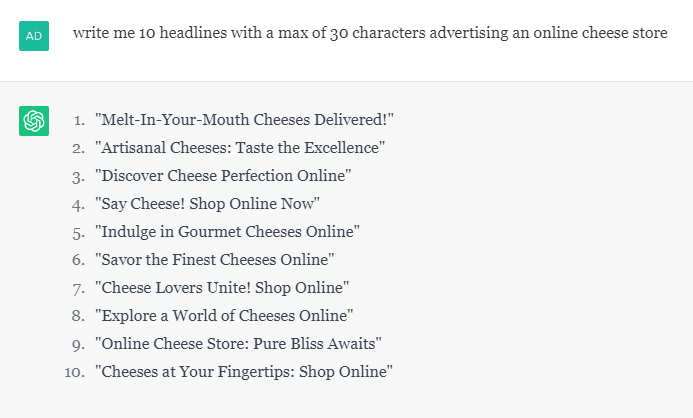 Out of that list, you may like a couple that you can simply copy and paste into your ads or you can make a few tweaks or ask for alternatives.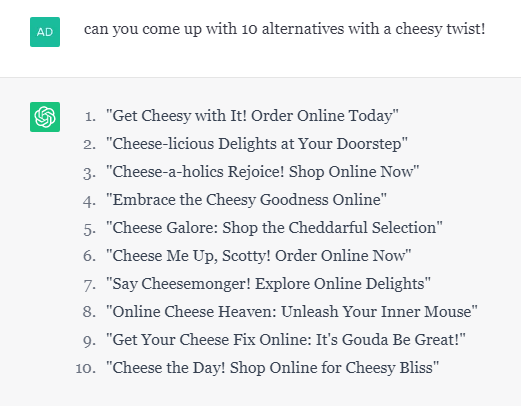 If you feed it with more information, you tend to get even better and more detailed results. You can even ask ChatGPT to tell you which essential elements should be included in your ChatGPT prompt to produce the best results.  Here's ChatGPT's suggestions of items to include;
Target audience & desired tone

USP's – unique benefits of the products or services you are offering

CTA's – Calls to action "Shop Now", "Learn More", etc.

Relevant keywords – for example, include "free shipping" or "Budget friendly options"

Character limits – eg max 30 character headlines & 90 character description lines

Brand guidelines – include messaging preferences or key phrases to stay on voice
Lets try including some of these to improve the ad copy results above;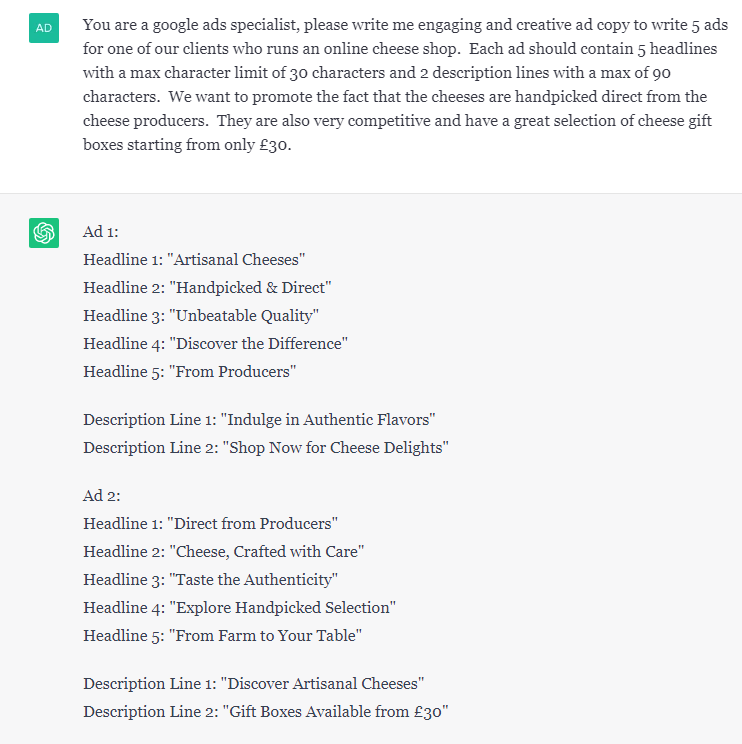 There are a couple of headlines in the above that I like, "Taste the Authenticity" and "Cheese, Crafted with Care".  Not as impressed with the descriptions but the beauty is that you can update your prompts or just ask for alternatives.  For us it is more of a brainstorming tool, we would never just copy and paste the whole thing into Google Ads.  
Its important to maintain control over the messaging to ensure brand alignment and the inclusion of a personalised touch.  We ensure that the AI-generated content reflects the brand's voice and resonates with the target audience effectively.
Stay tuned for more insights and practical tips on leveraging AI for marketing success!
Related Articles