To start off….there is nothing unethical here.  If you are looking for hacking tips, or ways to bring your competitor's world crumbling down…look elsewhere.  What we are going to look at here is ways you can spy on competitors websites, and monitor their digital marketing, in order to learn a little more about their strategies, their goals and their success.  You can then of course use this information for your own digital marketing strategy.
Target Keywords
Knowing which keywords your competitors are targeting can be invaluable. When they add new content to their website, why are they doing it? Have they spotted a trend in the industry which perhaps you have missed? When most websites create a new page, they are doing so with a focus keyword in mind.  With a couple of clicks you can find out if they are targeting a keyword, and what that keyword is.  All you need is the Gooogle Chrome browser and the instructions below.
Looking at the popular women's fashion outlet Dorothy Perkins as an example. As a competitor you might notice a new page appear on the site for their knitwear range.
http://www.dorothyperkins.com/en/dpuk/category/clothing-203535/knitwear-203563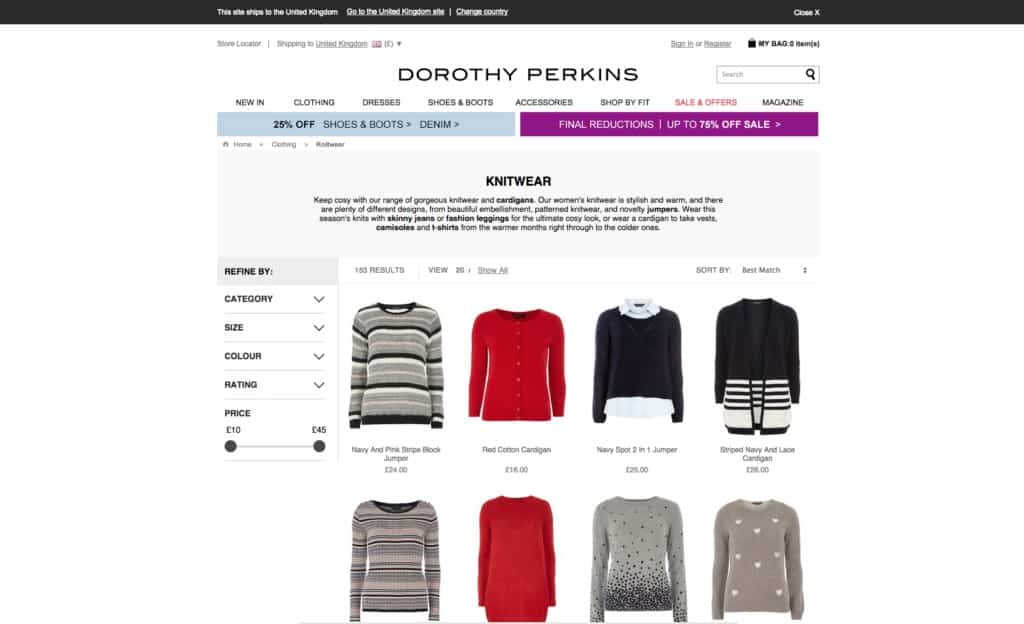 Here is where the magic begins.  Find an area of blank space on the page… for example the large white area to the left or right…. and RIGHT CLICK your mouse. You will see a menu;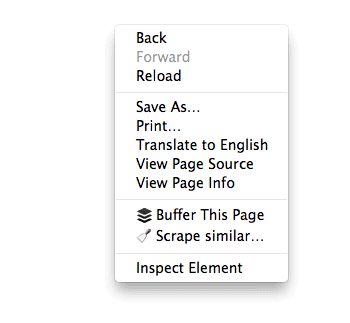 Click on VIEW PAGE SOURCE, and you will see some code.  This is the code your web-browser reads in order to display the site on your screen. Within this code are little gems of information, which can show you more detailed information about your competitor's site.  Press CTRL+F on your keyword and search for "<title>"  You should find something like this.

What this tells you is that "Knitwear", as well as "Jumpers & Cardigans" is the most likely target keyword for this page.  You will notice the text "&amp" which is code for the & symbol.  Sure enough, a quick Google for "Knitwear" reveals the site ranking in position one for the keyword "Knitwear".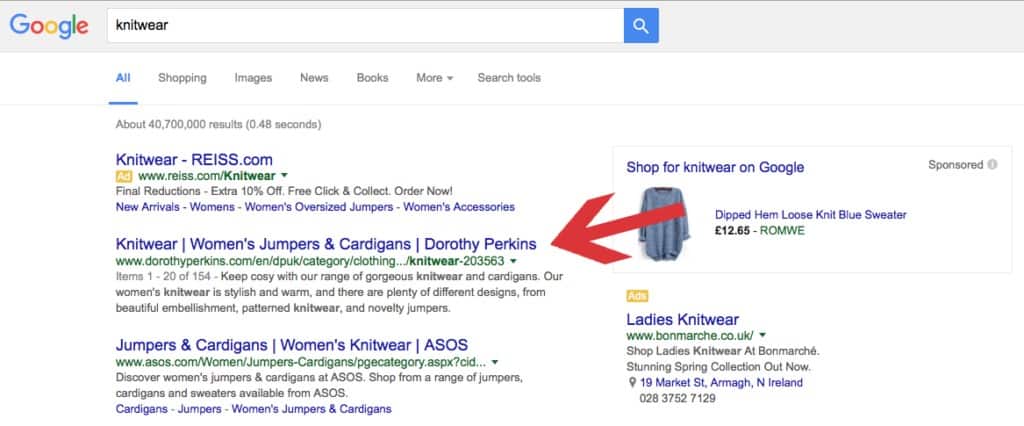 Knowing which keywords your competitor is ranking for…. or more importantly the keywords they are trying to rank for, can be extremely valuable information, especially in industries which have dynamic trends.
Another useful piece of information, can be to know which other websites your competitors operate.  Which leads us to….
Reverse Engineering Google Analytics
Using the above method of Chrome, and view source, you now know how to view the source code of any site.  As we mentioned above, the information in this code can be quite useful, and contains some hidden gems.  Take for example the Google Analytics code, which most companies employ.  Head over to NEXT, the men's fashion website, and view the site's code.

This bit of code is Google's unique identifier for the company.  In this case UA-4131497-1  The '1' at the end of this unique identifier, indicates that it was this first site registered under this account.  However there may be others, and knowing about these others may give you insight into the marketing strategy of the company in question.  There are many tools online which allow you to reverse lookup these UA IDs, and one such tool is Reverse Internet.  Head over to www.reverseinternet.com and enter your competitors UA code.

In the above example, you can see NEXT have 5 sites registered under the same Google account.
It should be noted, that on some occasions a Digital Marketing Agency or Web Design provider will register these accounts, in which case the information can be misleading. There are also strategies which can be used to hide your Google ID, to prevent someone viewing as we have in the above example.
Spy On Competitors Website Adverts
Finding out what your competitors are advertising is time-consuming. It might involve sifting through trade magazines, performing searches online and talking to your customers.  However, there are tools which can help automate these tasks in order to spy on competitors website adverts. One such tools is MOAT, which looks at any given brand name, and searches out their adverts.  They boast several billion searches per day, and deliver some impressive results.  Try typing in "Samsung" for example, and MOAT shows you the actual image adverts Samsung have been displaying online.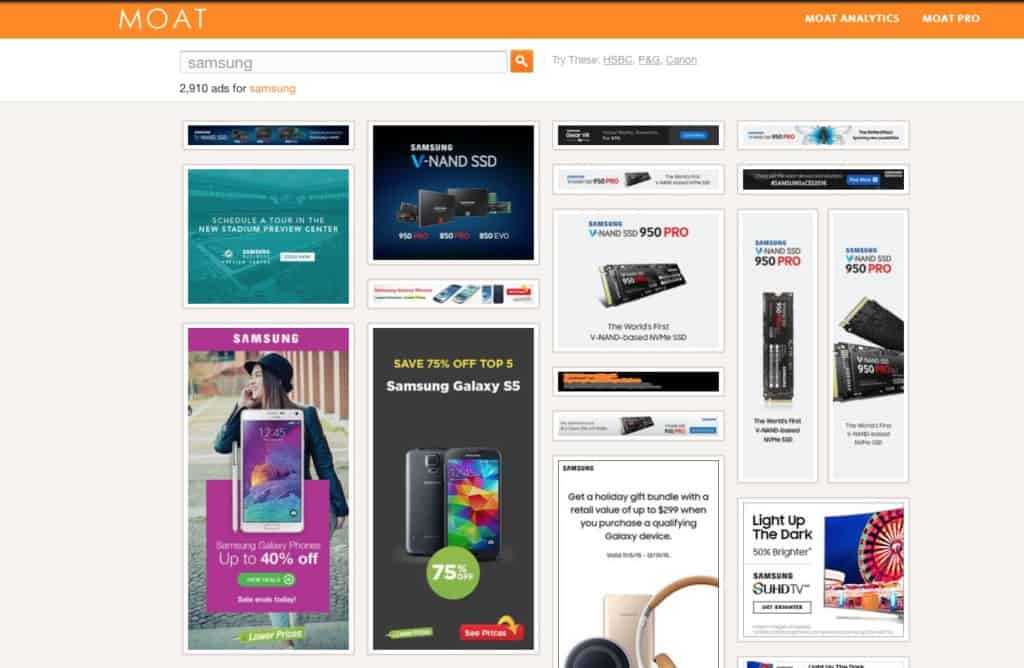 We have found that MOAT only really delivers with brands spending large monthly budgets.  However, if you choose the leading brands in your industry, it can help by showing your their current marketing strategy across the board.
Popular Content
Gaining inspiration for new blog posts, or maybe even new products can be a challenge. Maybe your competitors are ahead of the game, and maybe you could benefit from their strategy.  The simple answer is BuzzSumo. BuzzSumo allows you to identify the most popular and shared content on your competitor's site. Head over to the BuzzSumo site and simply enter your competitors URL, or in this case our own website…. for purposes of demonstration.

Hit the GO button….and let Buzzsumo do it's magic. Within a few seconds you will have a list of your competitors most shared content on social media.  Take a look at the results for our site.

The default view will show you recent content which has gained social media traction.  In the above example, you can see our AWESOME article 'How To Stop Leaking Adwords Cash' gained 24 Facebook shares, whilst our post on 'Replicating The Star Wars Marketing Strategy' was Tweeted 12 times. When viewing this data for your competitors, you can start to learn what your customers might be interested in, and what they might be likely to read…and share. Remember, genuine shares can bring social media traffic, as well as giving you a boost in the organic (Google) search results.
Summary
The above tips are all free, and can all be done within a few minutes. Most importantly the techniques are legal and ethical techniques used by many online marketeers and digital agencies.  All the information used above is publicly readable. With most industries saturated with content, and competition, it is important that your efforts are focused on targets, and the above strategies will enable you to have goals in mind, and to have an understanding of what might already work for your competitors, and what might not.
Enjoy this article? Do us a favor and share it on social media…. actually maybe not…..