With the final episode ever of Game Of Thrones about to air, Google has decided to launch it's own little 'war to end all wars'. With the voracity of an Unsullied army, search giant Google is taking on marketplace leader Amazon, seeking the digital world's version of the Iron Throne. Yes, Google is taking on Amazon with a huge push to launch its search based marketplace platform, which could well result in the type of carnage not seen since The Battle Of The Bastards.
If you're not a follower of Game Of Thrones, read-on; the article gets less geeky from here on in.
In recent years Amazon has cemented its place as the online go-to product marketplace. Be it for home products, car products, baby products or indeed Game Of Thrones geek merch, Amazon and in particular its Prime platform has become the market leader.
Sitting quietly in the background has been Google Shopping.  If you are unfamiliar with Google Shopping, you will have seen their adverts when searching Google for a particular product, as well as via the SHOPPING tab at the top of Google search results. However, Google have just announced that they will be pushing the platform to a whole new place.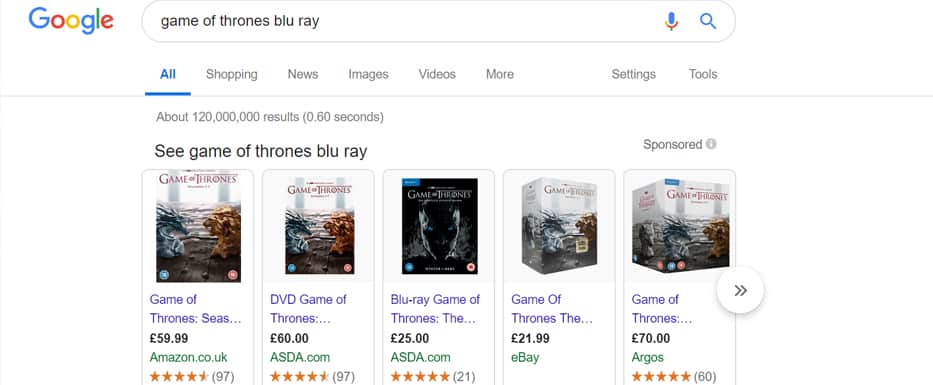 Currently products are displayed, along with a photograph, specification and price. However, launching soon this will also include a CHECKOUT button. This means users will be able to search Google for a product, and then browse and checkout. All without leaving the Google platform.
Millions of sellers already use Google Shopping to take users to their website, but this new innovation means that the shopping experience will exist outside the store owner's own website.  This could lead to higher conversion rates, but also a more competitive platform.
The biggest impact however is likely to be on Amazon, who currently dominate the Marketplace space. Amazon is currently the go-to market place for most product searches. But imagine if users can achieve this, with even more product results, without leaving Google.
To Amazon this may feel like being attacked at speed by an army of three dragons breathing fire over their long standing and stable platform. Whilst Google may have now given the order 'Dracarys', it's unlikely that Amazon will sit back and watch their crown slip.
With the platform set to also support instant checkout, a Google Guarantee and improved text ads, it is going to be an interesting few months. Watch this space.