Are you aware of the importance of digital and online marketing? With its astounding rise in recent times, this is now arguably the most important and significant avenue for business sales, networking, brand awareness, lead generation, and growth.
Social media plays a very large part in this. With so many businesses of all sizes now using a variety of social channels to improve their business, it is more important than ever to have an active business page set up on the key social channels. Simply having these pages set up, and distributing engaging, relevant and insightful content can go a long way in generating both strong relationships and custom for your business.
Networking
The social platforms of Facebook, Twitter and particularly LinkedIn are ideal for linking and interacting with other businesses. Whether it be keeping an eye on how your competitors are using social media, or engaging with partners or potential consumers, these channels are the perfect way to get your name out there and seen by a large amount of relevant and interested people. In an ideal world, this will be reciprocated and interested parties will engage with your content, sharing it to their followers which will result in an even bigger reach for your content – potentially creating even more leads and custom.
Social Context
Let people see into the world of your business. In the social media world, it is increasingly more common for people to want to know what's happening and be provided with fresh insights and information into a business. It is therefore important to make sure that followers and other businesses are given first hand, direct and easy access to your business activities, innovations and updates on a frequent basis. Using appropriate and insightful images, alongside switching between formal posts which discuss your business offerings, and informal posts that give perhaps a behind the scenes, more 'social' feel is an ideal combination for engagement and interest in your business.
Advertising
Social media is accessible everywhere, at any time and on all devices. In order to maximise your social presence as well as showcasing your business services, social media advertising is very cost-effective and allows for very specific audience targeting. With Facebook ads, you can target and reach people based on aspects such as interests, industry, job role, age and demographics. If you sell products that are relevant to a certain industry such as 'schools' for instance, you may want to create an ad campaign that specifically targets not only those who work in this sector, but decision makers like head teachers and senior staff. Refining the audience to be relevant to your business offering means that those who see and engage with the ad are more likely to be of high value, having an interest or relevance to your service. Advertising on social media is also very effective for brand awareness. Whether setting up remarketing ads to be shown to people who have previously visited your site, or creating targeted ads which are shown to individuals with relevant interests, the simple act of your brand name, logo and ad being seen on a relatively frequent basis will make your business memorable to consumers at a low cost.
Reach
The higher engagement and interaction a post receives, the higher number of people your posts will reach. Social media is one of the best ways to gain a very high organic reach. Once your content is liked, shared and commented on, it begins to be seen by more than just those people who like and follow your page which can ultimately result in more interest in your business both on social media and generally. This proves the value of engaging posts, as organic reach means those who interact are definitely interested and invested in your business. As the figures below show, the organic reach on a recent social post for one of our clients peaked to over 26,000 people, with 308 engagements.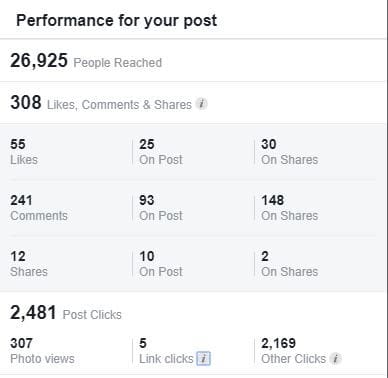 Customer Service & Recommendations
Having an easily accessible and active social media presence, and using these channels to promote your business values and engage with followers and potential customers means there is a huge opportunity to present your customer service skills. Social channels are also a great free way for users to recommend and review your business for others to see. By responding to feedback, recommendations and reviews, utilising the instant messaging function to respond to any enquiries quickly and efficiently, and engaging with interaction on content will allow followers to feel appreciated and valued as well as increasing your own business reputation.
If you are new to social media or would like to make sure you are using it more efficiently and effectively for your business, we can help you make the most of this and increase traffic, leads and awareness of your business.
Contact us for an informal chat about your project.