e have all been there, Monday morning and a pile of emails, a pile of to-dos, and post-weekend feeling of 'what now'. To add a little structure to your Monday's, how about these three tasks which will all have a direct impact on your website's performance.
Google Analytics (1 hour)
Yes I know, looking at analytical data is about as interesting as eating a pie-chart. But hidden deep within your Google Analytics data is a wealth of knowledge, information, and keys to success. It just takes a little time to read it all properly, and understand what your visitors are actually doing on your website.
Take for example BOUNCE RATE. By clicking BEHAVIOUR – SITE CONTENT – LANDING PAGE, you will see something which vaguely resembles this;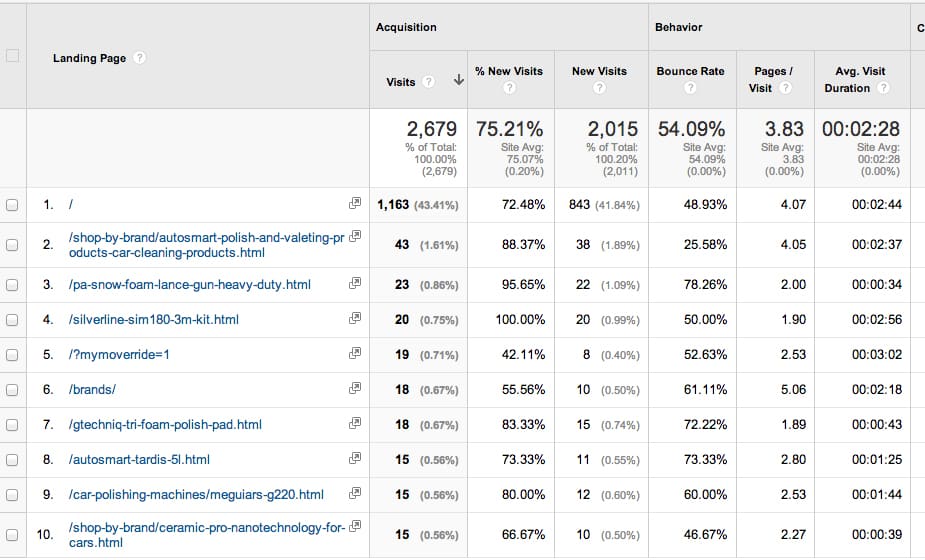 By looking down the bounce rate column, you can quickly see that the pages which have a high bounce. Bounce means people who landed on the page, and left the site without going further. The pages with high bounce rates can be golden nuggets of information, and present instant opportunities to improve your site. For example, maybe a product has been miss-priced, or a page of your site is broken. Spend an hour per week on this simple exercise, and before you know it you will reduce your bounce rate right across the site, and improve your customer experience.
Blogging (30 minutes)
Anyone who runs their own business can usually talk about their business all day long, and all night in some cases. So why not put that enthusiasm to some practical use, and type it up. 30 minutes spent writing a publishing a blog post on your website isn't going to revolutionise your traffic; but over time those ageing blog posts will generate traffic, and some of that traffic will lead to sales. Tie this in with your work monitoring Google Analytics, and you can start to write blog posts for your audience, and really capture their imagination. A blog also helps to keep your website fresh and active, and can be linked into your social media accounts, reducing the time you need to spend on social media.
Social Media (30 minutes)
The number of times we have heard business owners tell us that they can't see how social media will help them…. which in some cases is understandable. However, what you have to consider is that every single business has a common denominator; people. With over 1.4 billion people now on Facebook, you can bet some of these are associated with your target market. Check the stats for yourself on statistic brain.
In Summary
It can be summed up in one very simple sentence; Your online presence isn't going to improve unless your monitor the statistics, and act upon the findings. If you don't have a blog, you don't use Google Analytics, and you don't have any social media accounts, then get your skates on…because your competitors probably do!