Google has recently made a lot of changes to their Ads interface, one of which includes the name switch and rebranding from Google AdWords to Google Ads. Alongside this redevelopment, Google Ads have made some significant changes and updates to the Search Ads.
Our team have spent a lot of time implementing and optimising these new changes across our Google Ads clients' accounts, and we thought we would put together all the information and our top tips regarding what exactly has changed, and highlight the importance of a well executed Google Search Ad in both maximising your appearance on the SERP (Search Engine Results Page) and improving sales/leads. This information is also useful and recommended to anyone who manages a Google Ads account.
Expanded Text Ads
Google have recently updated their Expanded Text Ads (ETAs) on the Google Search Network, allowing users much more space to create successful online ads for their business.
From 2016, ETAs consisted of 2 x 30-character headlines and 1 x 80-character description line, which was an improvement from their previous Text Ads. In August 2018, Google developed their Expanded Text Ads even further making them the biggest they have ever been. The 2018 version ETAs now have the option of 3 x 30-character headlines and 2 x 90-character description lines. This means that the maximum character allocation for a search ad has increased from 140 in the 2016 version ads to 270 in the 2018 ads, and it is vital to utilise this extra space effectively to make sure your ad stands out and provides the best message for your business goals.
The images below highlight the difference in size and text allocation between the 2016 and 2018 ETA's on mobile. It is important to note, that on the 2018 ads, the third headlines are most likely to be displayed on wide mobile devices, and the second description line may not always be shown depending on how Google chooses to show them at each given time. However, the order of your headlines and descriptions will not change (so Headline 1 will always be the first headline shown etc).

Ad Extensions
Maximising the full use of ad extensions provides an additional means to show off your business and make your ad even bigger. On mobile devices, ads with the full range of extensions applied often dominate the entire screen, so utilising this function can be very worthwhile.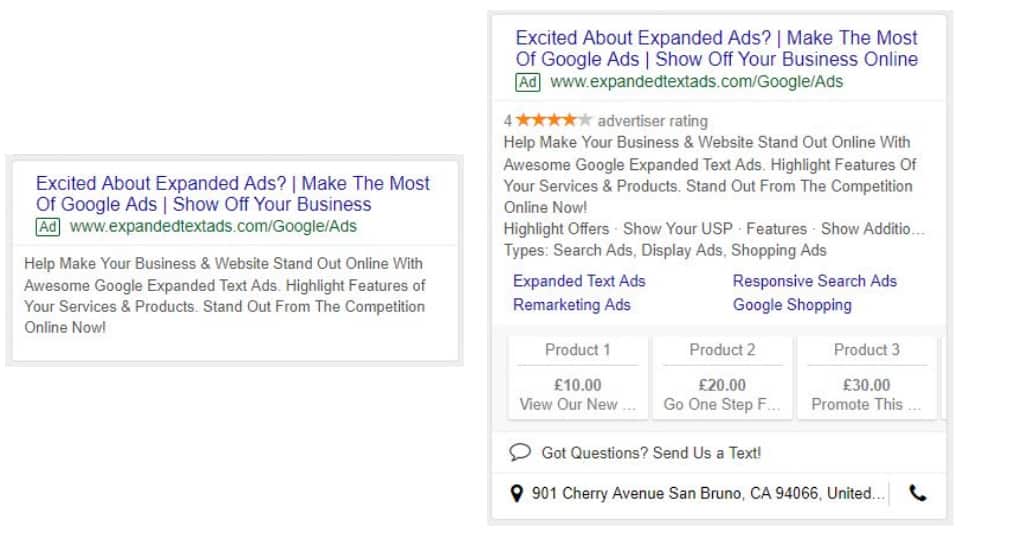 As you can see, with all extensions the ETA is taken to the next level and allows you to promote your product and services even further, highlighting offers, deals and the different range or varieties that you offer. All extensions are optional, and they won't necessarily always show. Google decides what extensions, if any, will be shown in an auction but if your ad is in a competitive position at the top of the page, you have a higher chance that more extensions will be shown. The different extensions available are as follows:
Sitelink Extensions – These allow you to link to other pages on your site that may also be of interest to the person viewing. This is also a great way to show what else you provide outside of the product being targeted in the ad.
Callout Extensions – This extension is a great way to highlight offers or features about your products and services that set you apart from others.
Structured Snippet – Highlight specific aspects of your products and services such as the certain types, brands, amenities that you have to offer.
Price Extension – Show the price of certain products on your advert. This is particularly useful if your prices are very competitive.
Call Extension – Add the number of your business onto the ad so people can quickly and easily contact you to find out more.
Responsive Search Ads
Google have also introduced Responsive Search Ads (RSA's) which are currently available as a beta function. These ads go even further than the ETAs, by offering 15 headline and 4 Description options. However, these will never all show on an ad at once. The idea is that Google Ads will use the various options to find out which headline and description combinations are both the most relevant and work the best, and will only show a maximum of 3 headlines and 2 descriptions per single ad.
Unlike with ETAs any one of the headlines could appear in any position, although you can "pin" headlines to a particular position if required. RSAs are a great way to try out a variety of different messages and very quickly establish those that perform. It is even more important with RSAs to make sure that every single headline and description line is unique and makes sense in isolation. Doing this, provides more opportunity for Google to show different variations of your RSA at different times based on the customers search query.
Top Tips
We recommend that you have 3 ETAs and 1 RSA in each adgroup.
Try new and different messages across each of your ads.
Be careful to make sure you don't repeat yourself, view the ads with the ad extensions to check this
Conduct weekly and monthly ad performance analysis checks – monitor what is working and what is not. Review the most popular RSA combinations.
Utilise the addition of any relevant Ad Extensions to show off your business, products and services, and make sure your ad stands out the most on the SERP