How To Optimise A Page On Your Website For A Keyword
February 16th 2017
Note: This article is aimed at new website owners getting started with SEO (Search Engine Optimisation).
So you have your shiny new website, and it's ready to handle the huge influx of visitors you know your business deserves. It's time to start tailoring your content for some target keywords, and work on organic traffic.
What Is Organic Traffic
Organic traffic refers to traffic which comes to your site naturally via listings on search engines, social media, directories, and other online resources. For the purpose of this article, when we talk about "organic" we are talking about traffic from 'Google', which accounts for over 90% of UK search engine traffic. When we talk about your 'organic' listing' we are talking about where you appear in Google search results.
Your website will have many different organic results. Let's look at the fashion website 'New Look' by way of example.
If you type into Google, "red shoes", you will see this listing on page 1 for the 'New Look' website;

These are two completely different pages of the New Look website, both geared towards different keywords. In an ideal world, every page of your website should be geared towards a target keyword. Which brings us onto the topic of 'how you can optimise your pages for specific keywords'.
Yoast
Google will pick up the target keyword of your site almost autonomously. their algorithms are hugely complex, and spend their days reading pages on websites, and determining when and if to display those in the results. Google's aim to to give the user the most relevant website's first. However, there are several things you can do to encourage Google to list your site closer to the top of the search results. This process is known as search engine optimisation, or SEO.
Let's say for example you wanted to target the keyword 'plumber in oxford', and you have a WordPress based website for your building company. The first step would be to create a new page on your site to target the keyword 'plumber in Oxford'. Keep in mind this is the page people are going to land on when they have found the page on Google. So your content needs to be relevant to those people, make clear concise sense to them, and should provide them with a good call to action….a contact form, a phone number, etc etc. You're going to put a lot of effort into this page, so you need to make certain that people are finding it useful and concise.
With most of our WordPress based site's we install a plugin called Yoast SEO. It is a huge help for website owners in optimising pages for specific keywords. Let's work through how you would do this;
Page Title
This is, arguably, the most important aspect that Google will consider when ranking your page. I say 'arguably' because there are thousands of factors, of which this is just one….but it's a big one. When you create your new page, ensure that your target keyword is in the title. so in this example;

This is a good title for the page, and would be viable to target the keyword "Plumber In Oxford'. It isn't spammy, it makes sense, and it contains the target keyword…..tick tick tick.
Google may also display this title in search results, as well as using it to determine where your page should rank. So, your title should be enticing for users to click on, but not spammy.
Your Page Content
This is obviously what will make or break the page. You should write informative, jaw dropping, head turning content. Do not;
Copy from other websites
Write spammy text
Write text which is too salesy
Do;
Write unique text of at least a few hundred words
Write for your visitors, not for search engines
Double and triple test for typos, spelling and layout issues
I cannot stress enough the important of having good text on the page. But you should also include some images. Once you get more familiar with WordPress there are a few other things you might want to do to improve your chances, especially for more competitive keywords;
Set alt text on images
Try to use H2 headings, with some relevance to your keyword
Use bold and italics where appropriate
Try to use word which are similar to your keyword (eg plumbing is similar to plumber).
Once you have written your content, it's time to look at some extra little pieces of information which your visitors won't see, which Google will see. We call this META DATA.
Meta Data
Every page of a website can have meta data. This is information you are giving google about your page. If you are using WordPress with Yoast installed, you will see this box at the bottom of the editor when making changes to pages;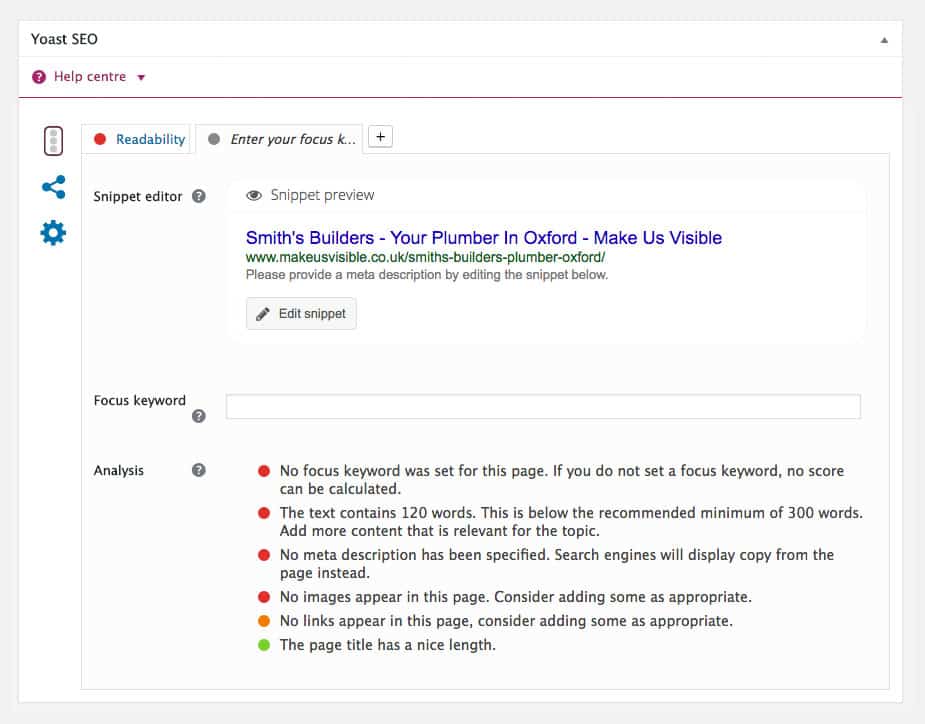 The 'snippet' preview is an estimation of how your page might currently be displayed if it appears on Google. But the first thing you will want to do is enter your 'focus keyword' because this will then allow Yoast to start giving your guidance about the page.
Once you enter your target keyword, keep watching the Analysis section for tips on how to further improve the page.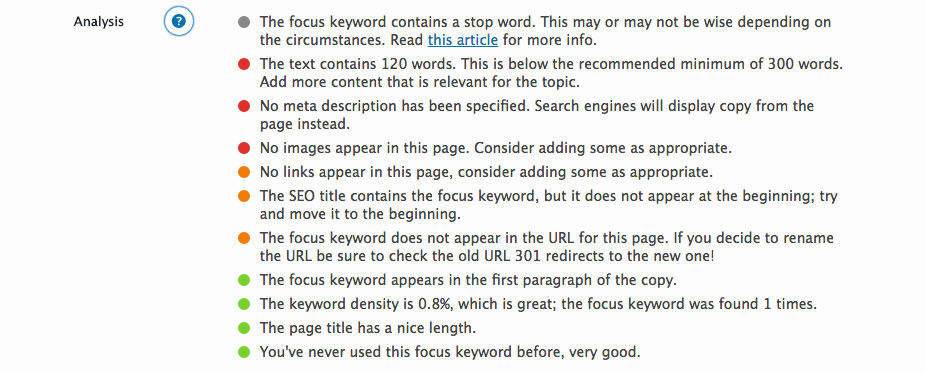 Title & Description
Imagine you were placing an advertisement into a newspaper. The newspaper tells you that you can have a heading of 60 characters, and your can have text of 160 characters. You can now envisage how crucially important this is….it's your big chance to tell Google what you would like to appear in search results.
Click the 'edit snippet' button;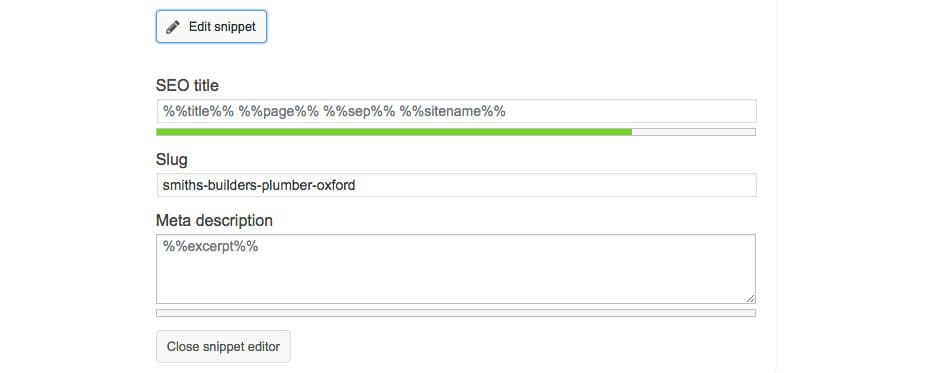 SEO title will be the heading, and 'meta description' will be the text below. Keep in mind the restriction of 60/160 characters, but the Yoast plugin will warn you if you are exceeding these. Make sure you use your target keyword in the title.
Having the keyword in the description is not a ranking factor with Google, but what it will do is turn users on or off….. if people don't like your description, they won't click your listing. Going back to the newspaper analogy, if people don't like your advert, they are unlikely to phone you.
Summary
You have to keep in mind that the above is a basic guide. Doing all of the above is not going to guarantee you appear on the first page of Google. If it did, everyone would be optimising for 'gold watches' and 'payday loans'. How easy it is to rank depends entirely on how competitive the keyword is, and how many people are also optimised for it….which is when the other few thousand ranking factors come into play.
Focus on writing good quality, unique text. Write it for your target audience, and not Google. Make sure someone visiting will find it helpful, and informative, and that you give them ample opportunity to get in touch.