As you may know, there are many cost-effective ways to generate traffic and awareness for your business online such as re-marketing and search ads. However, below we discuss five essential tools that will allow you to generate and manage both traffic and brand awareness at absolutely no cost whatsoever – other than your time!
Social Media
With the majority of the population on some or all forms of social media, can your business really afford to miss out on an ever-growing social audience?
Setting up a business page on Facebook and Twitter could not be more simple and once the initial set-up is complete you can begin to populate the page with content and build a following.
Liking and following other businesses of interest to your own, and sharing their social content on your channels will hopefully result in reciprocal sharing and liking of your page.
With a few exceptions, the golden rule is do NOT use your personal social media pages to produce business-related content and material. This creates an element of informality around your business and will not promote your brand correctly.
Once the pages have developed some page followers, set yourself a structure of how often you will distribute content. The key is making sure your business appears active and current. Both Facebook and Twitter provide the (free) ability to schedule posts too, so you don't have to worry about constantly remembering to produce content. If you have worked with other businesses be sure to tag that business so they can also share it with their audiences.
Social media can often be a confusing, daunting and complex world, but regardless of your personal attitudes towards it, spending time setting up dedicated pages for your business and producing relevant, up-to-date and engaging content will open up your business to an audience that will only positively increase your brand awareness and hopefully your sales and revenue too. At no cost at all, social media is an absolute necessity for your business.
Google My Business
Ever Googled a business name and noticed that they get a dedicated display on the search results page highlighting details such as their location, opening times, telephone number, website, and wondered why your business does not have this? This is free and relatively easy to set up.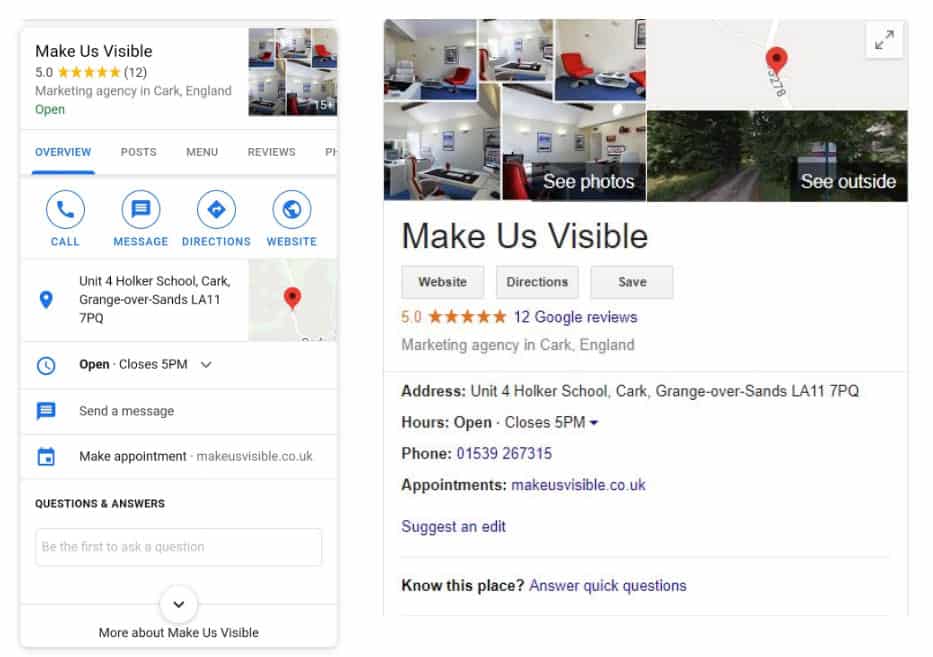 The most important thing to do is firstly to claim your business, once you have had the business verified by Google you can start to set up your company profile with details such as business address, phone number and business category.  This should get you on Google Maps and depending on the level of competition in your area, into the "local pack" (top 3 results under the Map) If you do not appear in the top 3 initially, there are actions you can take to improve your ranking.  Google talks about 3 factors; Relevance, Distance & Prominence. The first two are relatively outside your control, the one you can impact is the latter, prominence. This is improved by the number of Google reviews, posts, photos and links to external sites you have on your listing.  

Google My Business has a mobile app which is useful to update photos and feedback on reviews.
Google Analytics
Want to keep a close eye on your website traffic and gain insights into where your traffic and referrals originate from?
Again, the set-up is very straight forward and free. Google provide a snippet of code which is placed onto every page of your website, which allows Google to collect visitor data.
The Google Analytics software provides very detailed insights into your website and visitor performance, it allows you to set up goals and conversion tracking which ultimately allows you to monitor the success of your online visibility and digital marketing strategies. Information and data such as how long people stay on your site, what pages they visit, actions they take, and their device type can be very useful and significant in highlighting potential areas for improvement on your site.
Mobile Friendly Testing
Linking to website and visitor performance, roughly just over half of website traffic now comes from mobile devices. This highlights the categorical importance of a fully functional mobile-optimised site.

There are tools, such as Browserstack, which allow you to fully test your website on multiple devices and types. This type of testing can often uncover problems with the layout of your site, which can often impair conversions or sales.

Linked in to Google Analytics, where you can see what devices your visitors are using, you can also analyse how the site is performing across different mobile devices, which will often highlight where improvements can be made.
Blogs
People are searching online every day for answers to certain questions, specific products, services, and other business related information etc. If you write a blog that answers these search queries, this will generate unmissable traffic and interest in your business. Posting blogs on to your website can also massively increase your SEO performance. Search engines, including Google, love new and relevant content.
Blogs help to keep your business and content current and up to date. Distributing them across your social media pages will also allow these audiences to gain access to the latest news, information and innovations from your business. It is likely that this will generate engagement and interaction in the form of comments, likes and shares, resulting in even more people seeing and interacting with your content. This establishes your business firmly amongst the competition and encourages new connections and networking opportunities.
Each of the five areas discussed above are not only essential for your business success and online performance, but are absolutely free of charge. The only thing they require is your time, which for the purposes of business growth, is priceless.
We do appreciate all of the above tasks can be incredibly time consuming, particularly when undertaking them for the first time. We carry out the above work for our clients as both one-time-setups, and ongoing campaigns. Contact us today to discuss driving your digital presence forward.